Kashif Riley is an artist, writer, video game developer, and 3D printing enthusiast who recently shared a fascinating new project with us. Looking for a less expensive way to capture facial performances for use in his projects, he used his knowledge of 3D modeling, his trusty Robo C2 3D printer, and a skateboard helmet to create his own head-mounted facial performance capture device! We interviewed him about his ingenious creation to find out more about his work and design philosophy, as well as his thoughts about the future of 3D printing.
When did you first become interested in 3D printing, and what motivated you to purchase your first 3D printer?
Where can I begin? My first interest in 3D printing came about after watching a bunch of YouTube channels like Punished Props, ChaosCoreTech, Makers Muse, and 3D Printing Nerd, where they would talk about how they designed and printed their creations on 3D printers. This prompted me to do the research on what printer I wanted to purchase, what software I would need, and how I would be able to bring my creations into the real world.
After looking at a bunch of printers from different makers, I saw the Robo R1+ a few years ago and I thought to myself, "This will be my first 3D printer." Then, the C2 came out, and I made the purchase last July. Being a self-taught artist in 3D modeling and visual effects, I have always wanted to bring my creations into the real world without the super expensive price tag of sending it to a company. With a 3D printer, I can do it all myself.

What was the first thing you remember printing that really opened your eyes to the possibilities and potential for using 3D printing in your work?
The first thing I printed was a maker coin, just to test my newly purchased Robo C2. I designed my own coin to learn how to design for 3D printing, and I used my engineering knowledge to make sure it translated accurately into the real world. Unlike modeling for CG film and video games, with 3D printing you have to plan ahead to ensure a clean print. After the maker coin, I decided to design a pencil cup for my desk - it was so much fun creating something for the real world and on the C2, the details came out beautiful. I wish I had a picture of it. I just might take one and post it on Twitter.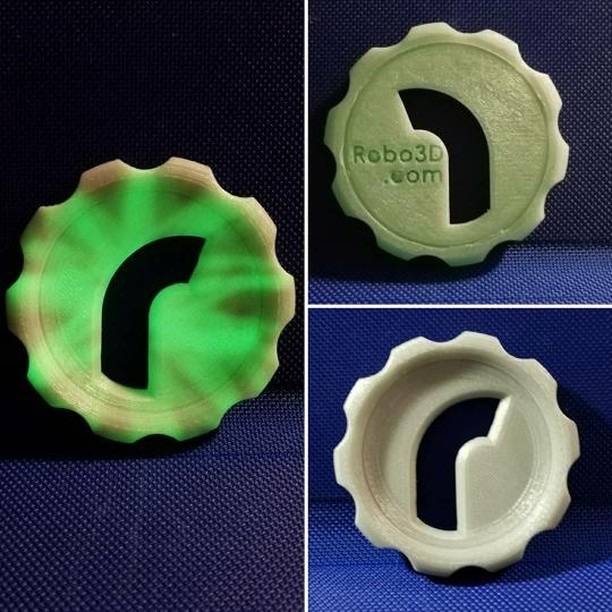 What are your favorite features of your Robo C2?
My favorite feature on the Robo C2 is the auto leveling, which takes the guesswork out of ensuring a clean and balanced print. I also love how quickly I can get up and running with minimal effort from installing filament to printing. And it just looks SO good on my desk while I work. If I need to do bigger prints I can just divide up the mesh and piece it together after. And the printer is surprisingly quiet (if you turn down the speed to reasonable levels).
On that note, I am doing more designs that will only get bigger, so I will be making a purchase of a Robo R2 around Christmas. I also plan on doing a mod on my C2/R2 which will allow me to turn off the onboard lighting with a switch, which is nice for printing at night without the light keeping you up.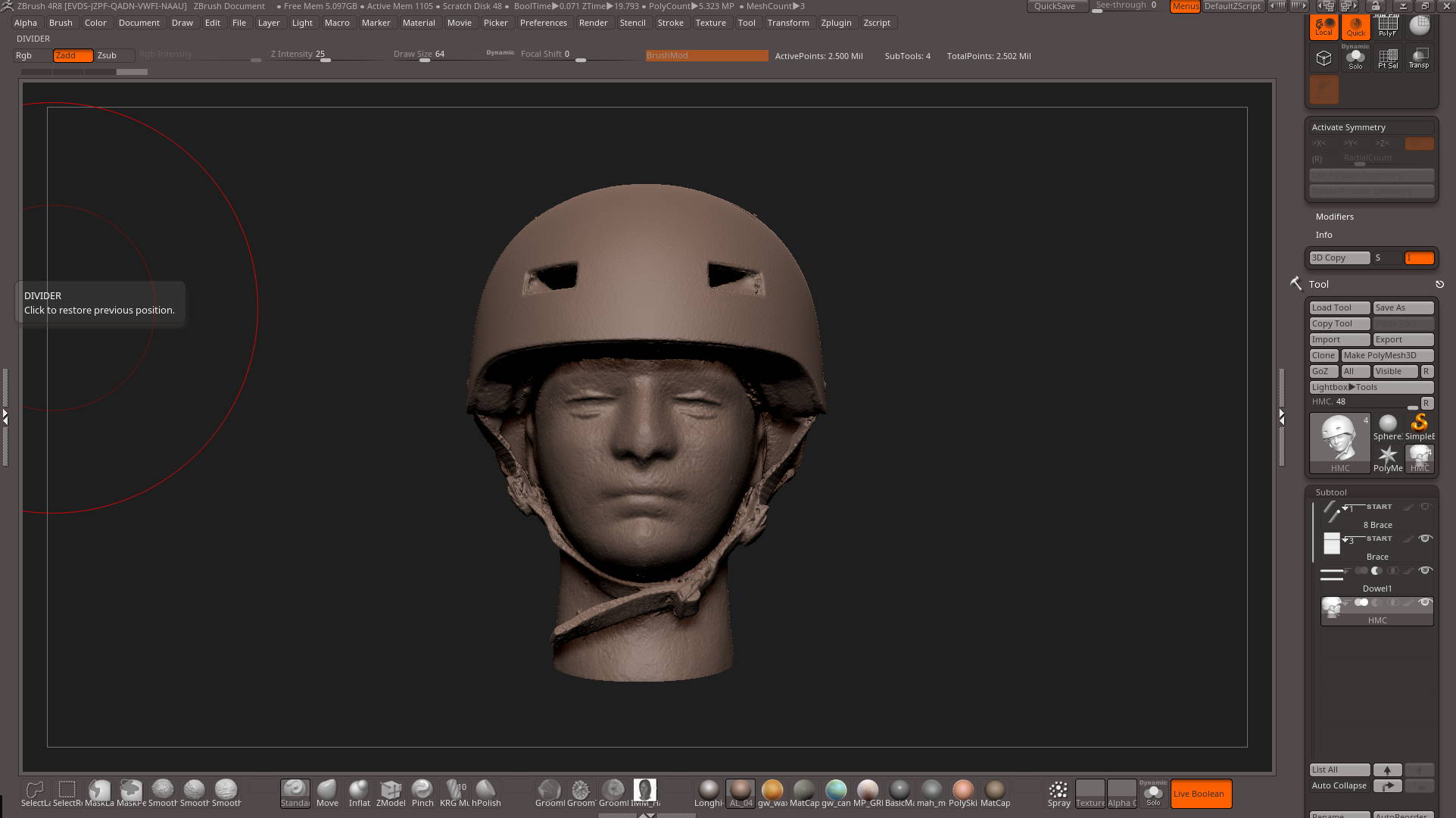 You created a motion capture device for capturing facial performances and printed it using your Robo printer. Tell us a bit about how you came up with the idea and how you plan to use the device?
The idea for designing my own HMC (head mounted camera) came about when I was looking for hardware to aid in my work, such as Vicon and Faceware, which are two amazing companies that I keep an eye on. Unfortunately, as an indie artist, the price range of Vicon Cara prevented me from acquiring it for my work, and the lack of software support for Modo (Faceware doesn't have plugins for Modo AFAIK) made me skip them. I also don't like the idea of wearing a bunch of stuff on my body that I am afraid will get damaged.
So I took time to think about what I wanted to do, knowing that it had to be cost-effective for me to iterate and improve. I bought a skateboard helmet off of Amazon and used that as a base for my prototype. With that, I took the helmet and scanned it using Photogrammetry to build a 3D mesh that I could model around. This was the hardest part since I had to make sure that the size of the 3D model matched the dimensions of the original helmet as closely as possible. The real fun was modeling all the parts that would be attached to the helmet in ZBrush and making sure each piece matched, including thickness and screw inserts (this also taught me about fit tolerances). A lot of parts had to be printed repeatedly and changed until the pieces fit well. I also engineered and printed rods and security clips after I learned the rails will shake and flex with the camera on the end of them.
My plans for this prototype, which will hold two cameras, is to record my facial performance as well as my body (using Perception Neuron software for body performance) and bring that data into Modo for animation films, games, and also as reference. It will also help me gather data on what works and what doesn't work, and integrate that information into my upgraded design, which I've already started working on. I'm also going to be adding lights which will require a custom housing for the camera with built-in lighting on the ring.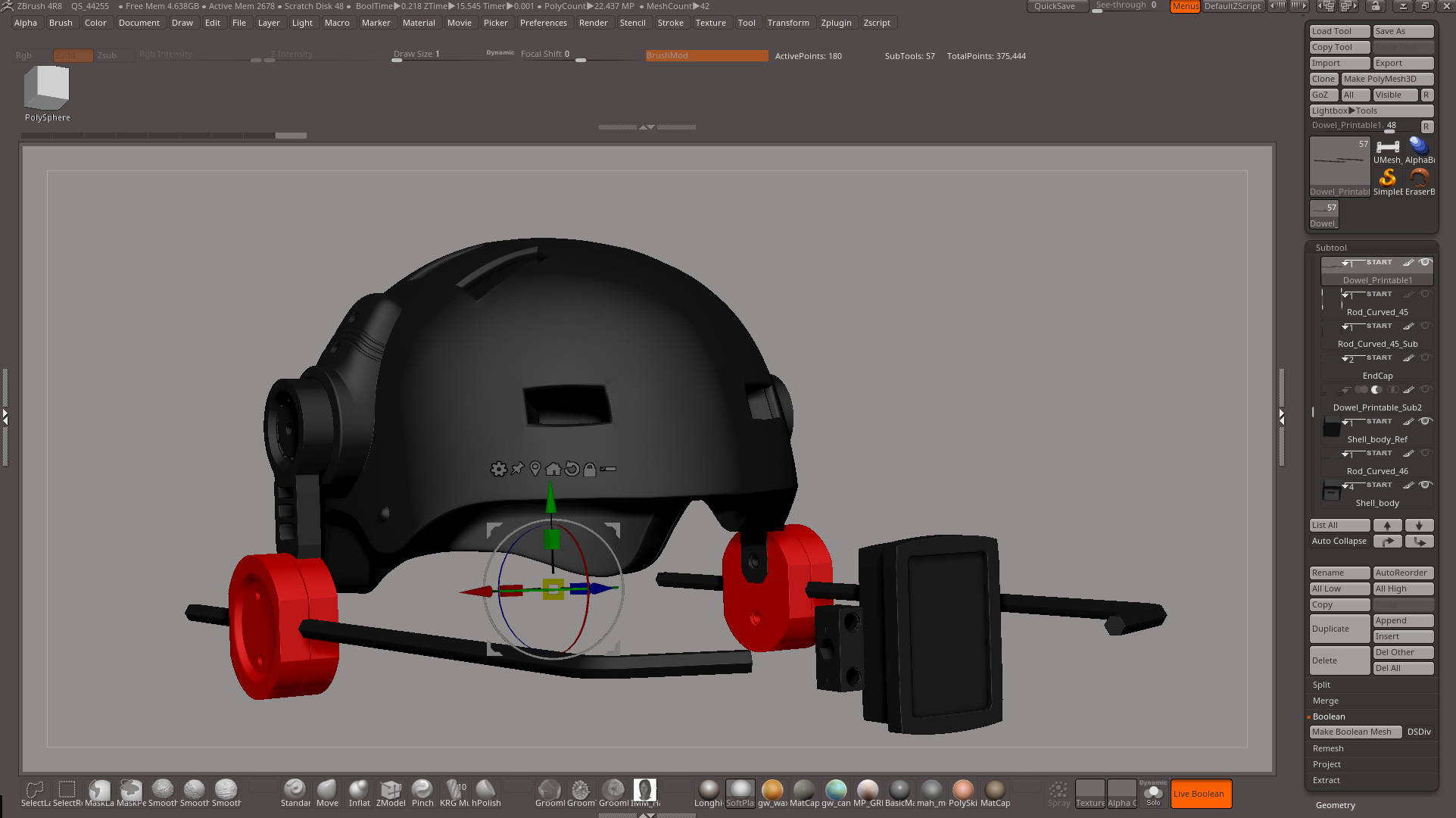 Speaking of your work, you're quite the Renaissance man! Your Twitter bio mentions that you're an artist, poet, novelist, and an indie game developer. Tell us a little bit about the different mediums in which you work.
On the side of art, I primarily focus on 3D modeling and animation using Unity, Modo, ZBrush, and Unreal 4 to name a few. I've been doing this for a very long time and it just makes the 3D printing process more intriguing, especially in engineering all of the needed parts for building a complete set. Right now, I am working on a game project, and for some of what I am doing, 3D printing will aid in my design pipeline.
For writing, I've published a lot of poetry over the years and working on my second novel due for publication this year. All of these things I do kept me out of trouble in as a child and tapped into my creative potentials. I have also mulled the possibility of doing 3D printed characters for casting.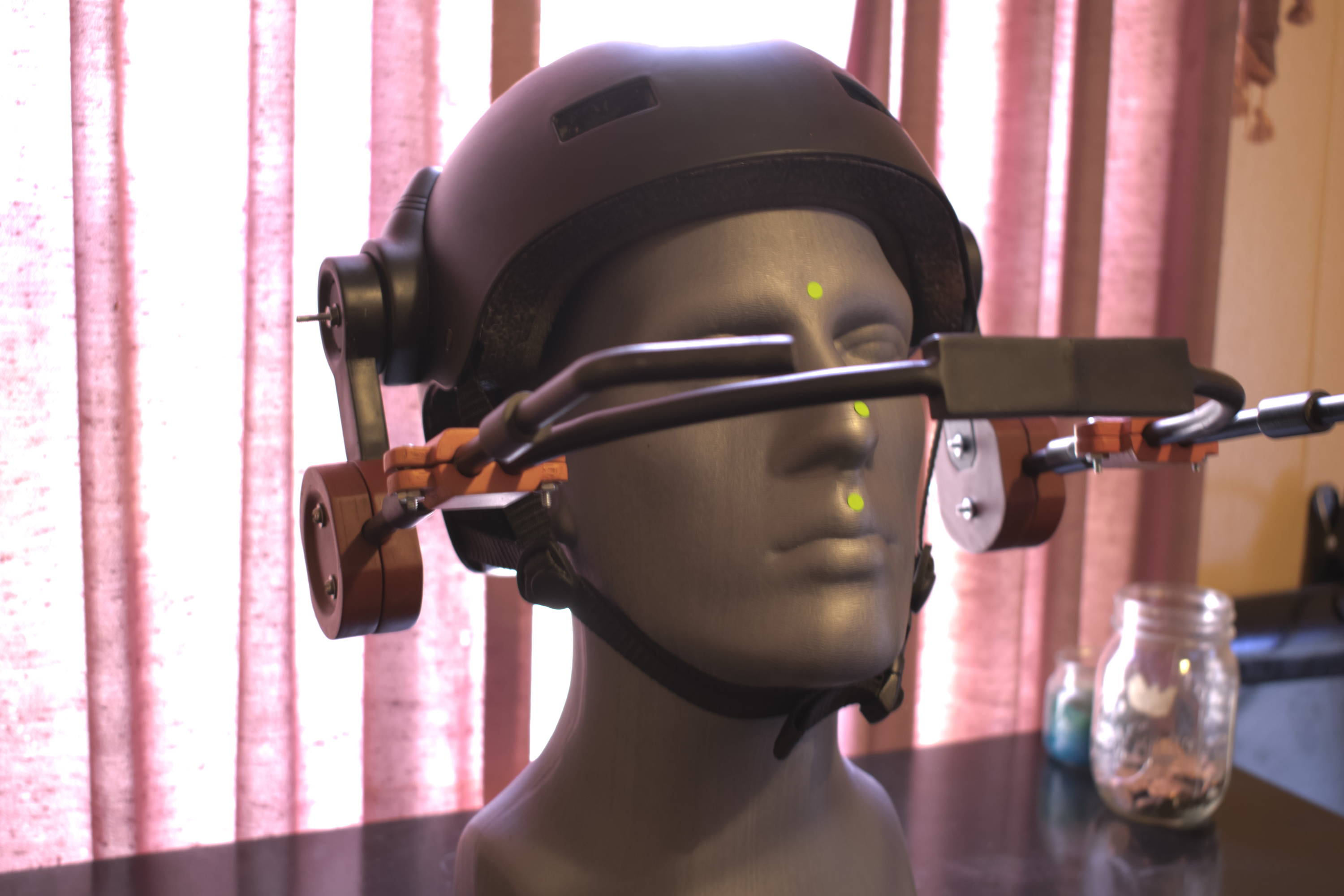 Do you have a design philosophy or a set of personal guidelines you like to keep in mind when you create?
Quite a few. For 3D modeling for games and film, I make sure that the design fits my visual desires and that it will translate well to the screen and the player controls, thus maintaining visual integrity. I am also mindful about how much detail I can put into a texture or model without making it look muddy. Those who are interested in my process should check out my YouTube channel where I design characters from start to finish.
My 3D printing guidelines are kind of the same, in that when I model a 3D piece, I have to imagine it on the print bed and ensure there will be no errors when I print. I also print slower on the C2 (between 20-35mm/s) which reduces hiccups in your print especially for engineered precision parts like the butterfly clips and the ear sockets which have curves and details that would mess up really bad if the print speed is set too quickly. I had to do this for another project in which I printed a hyper-detailed boulder taken directly from ZBrush - dialing down the speed to 15 mm/s to make sure all of the details translated. 64 hours later, it was a perfect print.
Finally, I'm about quality. You can print all of the parts in the world, just make sure it looks good and that it's functional. If I design something, I make sure that it prints correctly and use my engineering knowledge to make sure it's stable and lightweight. The hardest prints on my HMC were parts that I had to check to see if the part fit on the helmet's contours. And also multiple pieces which needed to be carefully glued and keyed.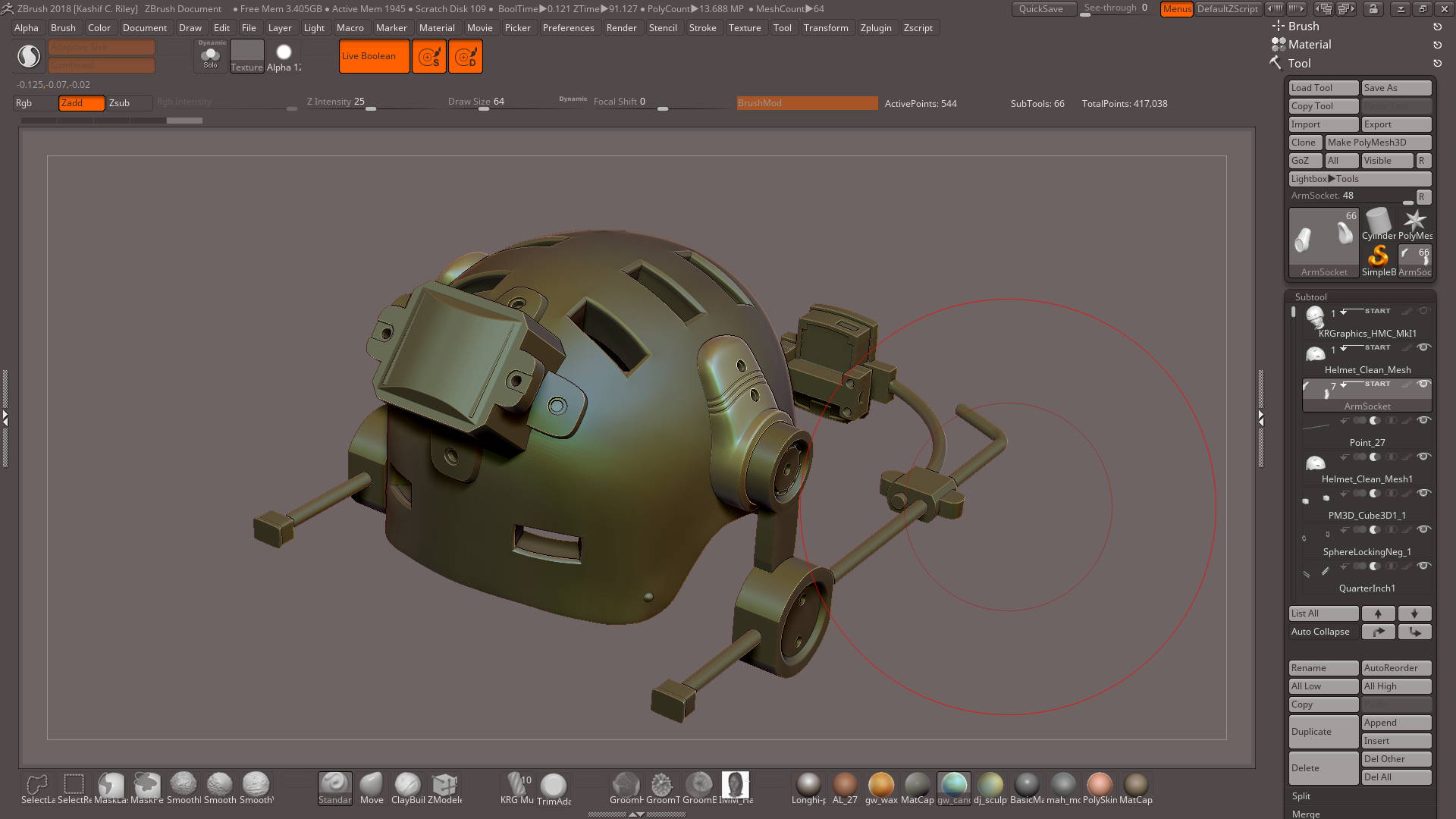 As a gamer and a game designer, what's your favorite video game, and what did that game teach you about game design?
I have so many favorite video games, but the one that has always stood out to me (and I still play it till this day) is Red Dead Redemption. I've always loved games that immersed you into their world with beautiful set pieces and amazing characters. For a game that is 7 years old, the facial animation and acting are still superb and it taught me, as a designer, that beautiful and shiny graphics CANNOT mask a poor story. The world around you has to keep you playing.
Finally, what kind of advances in 3D printing technology would you like to see in the next 5-10 years?
It's kinda already happening now with the Robo C2/R2 doing great on the market and SLA printers getting more affordable. I would love to see 3D printing become even more accessible to people like myself or even people like my mom who is not very tech savvy, especially with prices and great filament. For technical advances, I would love to see consumer level 3D printers that can print metallics... like coins or brass.
Make sure to follow Kashif on YouTube and social media!
YouTube: https://www.youtube.com/user/JamesRayder2020
Instagram: @krgraphicscg
Twitter: @KRGraphicsCG