Robo accelerates education strategy with acquisition of leading 3D printable STEM curriculum company, MyStemKits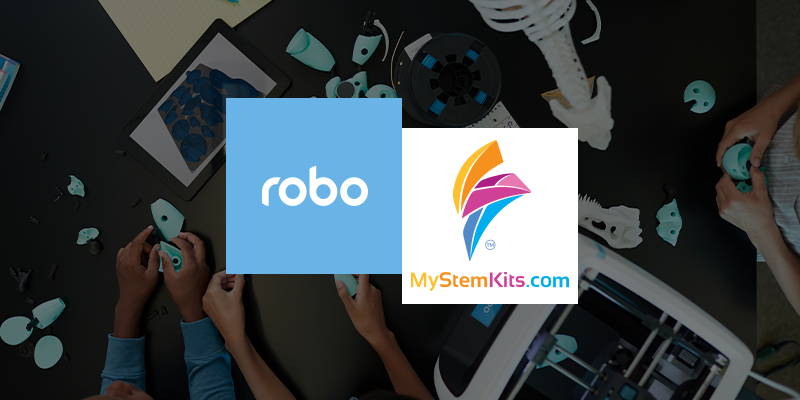 SAN DIEGO (June 14, 2018) — To continue its mission bringing 3D printing into education, Robo is excited to announce the acquisition of the leading USA education software and content business, MyStemKits. MyStemKits is the owner of the world's largest online library of Science, Technology, Engineering, and Math (STEM) curriculums with 3D printable kits for K-12 schools, all developed to meet Next Generation Science Standards (NGSS) and Common Core State Standards (CCSS).
Robo's smart and easy-to-use 3D printers, which are perfectly suited for education with Wi-Fi connectivity, Chromebook compatibility, and enhanced safety features, deliver a true end-to-end 3D printing solution for education alongside MyStemKits curriculum.
Robo's CEO, Ryan Legudi, says, "The promise of 3D printing in education has yet to be fulfilled. For teachers we have spoken to, it is still complicated to incorporate 3D printing effectively into the classroom with the current offerings. With our Robo 3D printers combined with MyStemKits 240+ turn-key 3D printable lessons, professional development and training for educators, we know that we have the key that will give educators the opportunity to be successful with 3D printing in the classroom."
MyStemKits has had huge success within the state of Florida (launch phase) achieving a 97% success rating from teachers implementing project  based learning with 3D printers. Robo will offer educational bundles that include their 3D printers, a filament supply, 1-year subscriptions to MyStemKits, and additional professional development and online learning.
Laron Walker, Founder of MyStemKits says, " MyStemKits was started with the intention of revolutionizing how 3D printers are used in the K-12 classroom. We have worked hard to make 3D printing plug-n-play, through an easy  to  use technical experience, backed by exceptional content and curriculum. I'm excited that the company is poised to reach its full potential as a part of the Robo family. Having an end-to-end solution for K-12 has always been a dream. Combining the world's best 3D printing content library, along with best-in-breed 3D printers, will open the flood gates of opportunity for educators and students around the world."
In closing, Braydon Moreno, Co-Founder of Robo goes on to say, "We all know the impact 3D printing can have for students in the classroom. It just needs to be easy to implement. If you go to MyStemKits.com, select your grade level, choose a lesson, click a file, and stream it to your Robo R2 directly from the platform without needing to adjust any settings — that's magical. That's the promise of 3D printing for teachers."
About MyStemKits
MSK was established in 2013 and has grown into a leading USA "EdTech" business that develops and markets the world's largest library of Science, Technology, Engineering and Math ("STEM") curriculums incorporating 3D printed project kits for K-12 schools, all aligned to USA national science and mathematics standards. It was recently recognized as a finalist for the best STEM Solution by EdTech Digest at the 2018 EdTech Awards.
MSK's lesson plans were developed over five years in conjunction with The Florida Center for Research in Science, Technology, Engineering and Mathematics at the Florida State University ("FCR-STEM"). An estimated $20 million was invested into the development and extensive testing in the classroom.
Every MyStemKit includes the following:
Lesson plan

Teacher guide

Student assessments

Student activities and handouts

Ready-to-print 3D model/s
About Robo
Robo is a company based in San Diego, California, USA, focused on the design and distribution of 3D printers and associated products for the desktop segment of the 3D printing industry. The company was founded in 2012 by a group of students from San Diego State University and delivered its first model, named the R1, to customers in 2013 via a successful Kickstarter campaign raising $649,000.
Since then, Robo has grown into a leading brand in the desktop segment of the 3D printing industry, gaining significant traction online and through retail partners including Amazon and Best Buy for Education. Robo is poised to create more opportunities for 3D printing within education to allow students to innovate, collaborate, and advance their project based learning skills.
To learn more about this, please visit: